1937-1963
1964-1968
1969-1973
1974-1978
1979-1983
1984-1988
1989-1995
1996-2001
2002-2006
2007-2009
1937-1961
1962-1964
1965-1967
1968-1970
1971-1973
1974-1976
1977-1979
1980-1982
1983-1985
1986-1988
1989-1992
1993-1996
1997-1999
2000-2003
2004-2006
2007-2009
1937 & 1953–57
1957–59 & 1959
1960–61
1962
1963
1964
1965
1966
1967
1968
1969
1970
1971
1972
1973
1974
1975
1976
1977
1978
1979
1980
1981
1982
1983
1984
1985
1986
1987
1988
1989
1990
1991 & 1992
1993
1994 & 1995
1996
1997
1998
1999
2000 & 2001
2002
2003
2004
2005
2006
2007
2008
2009
1937
David Hockney is born in Bradford, Yorkshire, on 9 July, the son of Kenneth and Laura Hockney and
the fourth of five children (Paul, Philip, Margaret, David and John).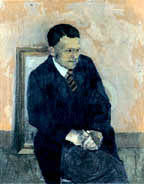 Portrait of my Father, 1955
1953–57
Studies at Bradford School of Art, where his fellow students include Norman Stevens, David Oxtoby and John Loker. He receives a traditional training based on drawing from life and produces figure studies, portraits and cityscapes. Exhibits and sells Portrait of my Father at the 1957 Yorkshire Artists Exhibition at Leeds Art Gallery.


Self-portrait, 1955
1957–59
As a conscientious objector, for his National Service he works as a hospital orderly.
1959
Begins his studies at the Royal College of Art, London, where he meets R.B. Kitaj, Derek Boshier, Allen Jones, Peter Phillips and Patrick Caulfield. His tutors include Roger de Grey, Ceri Richards, Ruskin Spear and Carel Weight. Among the visiting artists are Francis Bacon, Richard Hamilton, Joe Tilson, Peter Blake and
Richard Smith.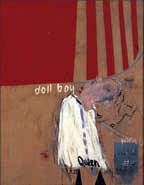 Doll Boy, 1960–61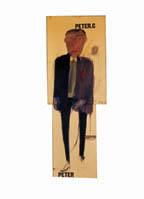 Peter C, 1961
1960–61
Sees major Picasso exhibition at Tate Gallery, London. Takes part in the Young Contemporaries exhibition at the RBA Galleries and wins Junior Section Prize in the John Moores Liverpool Exhibition 1961, Walker Art Gallery, Liverpool. Meets the art dealer John Kasmin and Mo McDermott, who becomes his model. Reads Walt Whitman and paints Doll Boy, Adhesiveness, and other love paintings. On his first trip to New York in 1961, he meets William S. Lieberman, then Curator of Prints at the Museum of Modern Art, who buys two Hockney prints. Begins sixteen etchings for A Rake's Progress.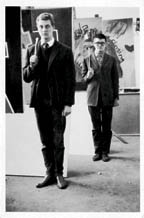 David Hockney and Derek Boshier in the Royal College of Art Painting School, 1961


Myself and My Heroes, 1961
1962
Exhibits four Demonstrations of Versatility at the Young Contemporaries. Becomes friends with designer Ossie Clark. Visits Florence, Rome and Berlin with Jeff Goodman. Graduates from the Royal College of Art with a gold medal. Moves into Powis Terrace in the Notting Hill district of London. Paints The First Marriage.
Life Painting for Myself, 1962.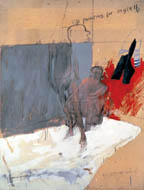 Domestic Scene, Notting Hill, 1963

1963
Paints The Second Marriage and Play within a Play. Begins a series of double-figure domestic scene paintings and shower paintings. His first solo exhibition, David Hockney: Pictures with People In takes place at John Kasmin's gallery and is a sell out. Hockney begins to lead a very social and public life. His name is often mentioned in the press. Commissioned by the Sunday Times to make some drawings of Egypt, he travels there in October and produces forty coloured crayon drawings. Wins the graphic prize at the 3rd Paris Biennale. In December he goes to New York and meets Andy Warhol, Dennis Hopper and Henry Geldzahler, Curator of Twentieth-Century Art at the Metropolitan Museum of Art.


Shell Garage, Luxor, 1963
1964
In January visits Los Angeles for the first time and meets Christopher Isherwood and Don Bachardy, Jack Larson and Jim Bridges, the dealer Nicholas Wilder and master printer Ken Tyler. Begins using acrylic paint and taking Polaroid photographs. Works on a series of stylized Southern Californian landscapes and the first swimming pool paintings. In the summer teaches at the University of Iowa, driving across America to get there. Visits the Grand Canyon with Ossie Clark and Derek Boshier. Travels to New York for his first American exhibition at the Alan Gallery. Receives good reviews and sells every painting. Returns to London in December.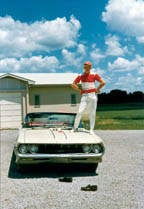 David Hockney, Iowa City, 1965
1965
Teaches at the University of Colorado, Boulder. At the end of the term drives back to Los Angeles with Patrick Procktor, Colin Self and Norman Stevens, visiting the old Colorado gold mines, San Francisco and Disneyland on the way. While in Los Angeles, works on A Hollywood Collection, a series of six colour lithographs for Ken Tyler at the Gemini workshop. Meets Bobby Earle, who joins him and Procktor on the drive to New York and return boat trip to London. Draws Earle from life on the boat (Bob Aboard the France).


Bob Aboard the France, 1965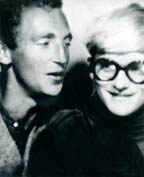 Patrick Procktor and David Hockney, Grauman's Chinese Theatre, Hollywood, 1965
1966
In January Hockney travels to Beirut and creates drawings for a set of etchings relating to the poems of C.P. Cavafy, which he produces back in London with the assistance of Maurice Payne. Designs the revival of Alfred Jarry's Ubu Roi for London's Royal Court Theatre. In the summer he returns to Los Angeles to teach drawing at the University of California at Los Angeles (UCLA), where he meets Peter Schlesinger, who becomes his lover and favourite model. Through Jack Larson he is introduced to Betty Freeman and paints Beverly Hills Housewife soon after they meet. In Sunbather and Portrait of Nick Wilder he works on the problem of representing reflections on water.


Beverly Hills Housewife, 1966

Photo study of Betty Freeman for Beverly Hills Housewife, Beverly Hills, 1966
1967
During the spring Hockney teaches at the University of California, Berkeley, but returns to Los Angeles at the weekends. In A Bigger Splash and A Lawn Being Sprinkled devises new ways of depicting water. Paints The Room, Tarzana. In the summer he and Schlesinger return to London. In August they travel through France and Italy with Patrick Procktor and Hockney experiments with watercolour. In the autumn he visits Paul Cornwall-Jones in St Mawes in Cornwall with Mo McDermott and Cecil Beaton's home in Castle Combe, Wiltshire. Wins first prize in the John Moores Liverpool Exhibition 6, Walker Art Gallery, Liverpool, with Peter Getting Out of Nick's Pool. He paints The Room, Manchester Street, a portrait of Patrick Procktor. Hockney purchases a 35mm camera and increasingly uses photographs as an aide-mémoire for his paintings.


A Bigger Splash, 1967
1968
Lives half the year with Schlesinger in Santa Monica working on a series of large double portraits, Christopher Isherwood and Don Bachardy and American Collectors (Fred and Marcia Weisman). Returns to London alone in June and travels throughout the summer taking in Paris with Kasmin, staying with Stephen Spender in the South of France, meeting Richard Hamilton and Allen Jones in Cornwall and the Dufferins in Northern Ireland. Back in London Schlesinger moves in with Hockney in Powis Terrace and begins studies at the Slade School of Fine Art. In the autumn Hockney and Schlesinger stay with the director Tony Richardson at his home Le Nid du Duc, near St Tropez. Hockney photographs the area and the reflections on the swimming pool. Back in England, he paints four works based on these photographs and begins the double portrait Henry Geldzahler and Christopher Scott. He travels to New York in December to make drawings for the painting.

Study for Christopher Isherwood and Don Bachardy I, 1968
1969
Continues work on the double portrait throughout January and February. For the rest of the year he concentrates on a series of etchings, Illustrations for Six Fairy Tales from the Brothers Grimm. In the summer Hockney and Schlesinger holiday in the south of France with Patrick Procktor, eventually joining Celia Birtwell and Ossie Clark, Kasmin, and Geldzahler at Le Nid du Duc. In September Hockney, Schlesinger and Clark go to the spa town of Vichy, where Hockney takes photographs and makes drawings for Le Parc des Sources, Vichy. He is the best man at the wedding of Ossie Clark and Celia Birtwell and begins preparatory drawings for Mr and Mrs Clark and Percy.


Ossie Clark and Peter Schlesinger at Le Parc des Sources, Vichy, September 1969
1970
Hockney's first retrospective, David Hockney: Paintings, Prints and Drawings 1960–1970, opens at the Whitechapel Art Gallery in London. Throughout the year Hockney makes various trips to Europe and visits New York and Los Angeles. He paints Le Parc des Sources, Vichy, a portrait of Peter Schlesinger and Ossie Clark with surrealist overtones, which deals with illusionistic space. Begins Mr and Mrs Clark and Percy, the painting that comes closest to naturalism according to Hockney. Commissioned to paint a portrait of Sir David Webster for the Royal Opera House, London. Dissatisfied with the distortion created by a wide-angle lens, Hockney makes his first 'joiner' – a pasted assemblage of photographs.
Mr and Mrs Ossie Clark, Linden


Mr and Mrs Ossie Clark, Linden Gardens, London, 1970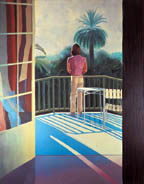 Sur la Terrasse, 1971
1971
Completes Mr and Mrs Clark and Percy after spending one year working on it. The painting is shown at the National Portrait Gallery, London. Travels to Morocco with Peter Schlesinger and Celia Birtwell and on his return paints Sur la Terrasse, a portrait of Schlesinger seen from behind on the terrace in Marrakesh. Travels to New York, where he meets Robert Mapplethorpe, and to Los Angeles, where he meets Arthur Lambert and Larry Stanton. The filmmaker Jack Hazan asks to make a documentary about Hockney and films him periodically over the next three years. In June takes his parents to the Lake District for a holiday, producing separate drawings of them there. Later in the summer he travels to Carennac with Peter Schlesinger, Ossie Clark and Celia Birtwell, Mo McDermott, Maurice Payne, George Lawson and Wayne Sleep. Makes drawings there including Celia Smoking, Carennac and Celia, Carennac. Hockney's relationship with Peter Schlesinger ends. Hockney finds solace in his work, completing seven paintings in two months, including Pool and Steps, Le Nid du Duc, Still life on a Glass Table and Beach Umbrella, many of which deal with absence. In the autumn begins a two-month trip with Mark Lancaster, taking in Hawaii, Japan and South East Asia.
1972
Works on Portrait of an Artist (Pool with Two Figures), which shows Schlesinger at the edge of the pool and John St Clair swimming underwater. The painting is shown at the André Emmerich Gallery in New York and Hockney attends the opening with Mo McDermott. He draws Geldzahler in his apartment, (Henry, Seventh Avenue). Back in London, Hockney begins the unfinished double portrait of George Lawson and Wayne Sleep. In July he visits Baden-Baden, Nice and Calvi, in Corsica, with Geldzahler and Nicky Rea and produces many sketches on his travels.


David Hockney working at Powis Terrace, 1972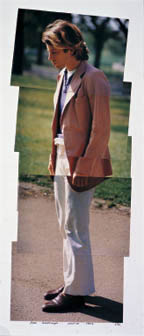 Peter Schlesinger, London, 1972, 1972
1973
Works in California, producing lithographs for the Gemini workshop. Picasso dies and Hockney produces a series of works inspired by the artist including the self-portrait prints The Student – Homage to Picasso and Artist and Model. During the summer Hockney and Geldzahler rent a villa near Lucca, and travel around northern Italy. Many friends visit them there, including Mo McDermott, and Hockney produces a series of drawings of Geldzahler and McDermott. In the autumn he moves to Paris where he produces highly worked academic drawings of friends including Celia Birtwell. He also experiments with new printing techniques and produces The Weather Series, lithographs influenced by the stylization of weather in Japanese art.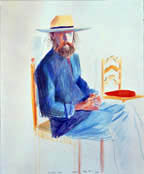 Dr Eugene Lamb, 1973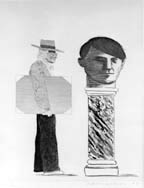 The Student – Homage to Picasso, 1973
1974
Begins the unfinished double portrait of Gregory Masurovsky and Shirley Goldfarb, American artists living in Paris, and two large paintings of windows in the Louvre. After a decade of working with acrylic paint, he starts using oil paint again. In the autumn Jack Hazan's film about Hockney, A Bigger Splash, is released. The travelling retrospective, David Hockney: Tableaux et Dessins, opens at the Musée des Arts Décoratifs, Paris, bringing his work to a wider audience. Begins relationship with Gregory Evans.
David Hockney, Mo McDermott.


Maurice Payne and Christopher Isherwood in Tony Richardson's empty swimming pool, Hollywood, November/December 1974 A Bigger Splash – Featuring David


Hockney. London film poster c.1975
1975
During a visit from his parents in March, Hockney makes preparatory drawings and photographs for My Parents and Myself, which he eventually abandons. He paints Invented Man Revealing Still Life, which owes much to the work of the early 1960s in its use of a curtain device and a shallow theatrical space. Embracing the challenge of a new medium he designs a production of Igor Stravinsky's The Rake's Progress for Glyndebourne Festival Opera, which premieres in June. Later in the summer he travels to the gay resort the Pines on Fire Island with Geldzahler. In November he packs up his studio in Paris and moves back to London.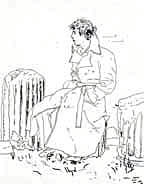 Gregory. Palatine, Roma. Dec. 1974, 1974


Bedlam from The Rake's Progress, 1975
1976
In January Hockney drives from New York to Los Angeles with Gregory Evans. He starts to work extensively with photography. Hockney also makes a series of large, highly detailed academic lithographs for Gemini entitled Friends. He regards these as exercises to train the eye. Joe McDonald and Billy Wilder are among his subjects. Meets the young art dealer Peter Goulds. In March he travels to Australia and New Zealand with Gregory Evans. He spends the summer on Fire Island and, at Geldzahler's suggestion, reads Wallace Stevens's poem The Man with the Blue Guitar (1936). His autobiography David Hockney by David Hockney is published.
David Hockney with his painting.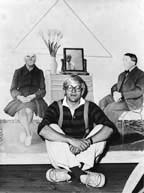 My Parents and Myself, 1976

Looking at Pictures on a Screen, 1977
1977
Etchings by David Hockney, who was inspired by Wallace Stevens, who was inspired by Pablo Picasso is published as a portfolio and book. Also influenced by Picasso, he paints Self-portrait with Blue Guitar and Model with Unfinished Self-portrait, in which he examines painting as the subject of painting. In a double interview with Kitaj in the New Review they stress the importance of the human figure in the history of art and speak out against modernist academicism. In July he paints Looking at Pictures on a Screen, a portrait of Henry Geldzahler standing looking at reproductions of paintings from the National Gallery, London. He travels to New York to begin work on designs for Mozart's The Magic Flute for the 1978 season at Glyndebourne. This project occupies him for almost a year during which he produces no paintings. For Christmas he returns to London and his new studio at Powis Terrace.


Peter Schlesinger with Polaroid Camera, 1977
1978
In the spring Hockney travels with Joe McDonald and Peter Schlesinger to Egypt to finish work on The Magic Flute. Decides to make Los Angeles his permanent residence. On the way to Los Angeles he stops over in New York and Bedford Village in upstate New York. There he experiments with a process of moulding coloured paper pulp with Ken Tyler, producing a series of twenty-nine Paper Pools. Influenced by Van Gogh he begins a looser approach to drawing using red-brown ink with a reed pen. A touring retrospective, David Hockney: Prints and Drawings, opens at the Yale Center for British Art, New Haven, and tours North America until 1980 when it closes at the Tate Gallery, London. In Los Angeles in the autumn he begins a 20-foot wide figure painting Santa Monica Boulevard using a new kind of acrylic paint.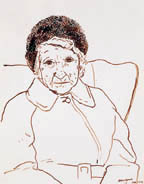 Mother, Bradford, 19 Feb. 1978
1979
Hockney's father, Kenneth, dies in February. Hockney returns to London. He publishes an article in the Observer (4 March 1979) criticizing the Tate for favouring abstract art in its acquisitions policy. Back in Los Angeles, he works at the Gemini workshop on a series of Matisse-influenced lithographs of Celia Birtwell and Ann Upton. He also produces a series of quickly painted portraits in acrylic, using a bold palette, including a portrait of Divine. He begins designing a triple bill for the Metropolitan Opera in New York, directed by John Dexter: Eric Satie's ballet Parade and two short operas – Francis Poulenc's Les Mamelles de Tirésias and Maurice Ravel's L'Enfant et les Sortilèges.


Parade collage from Parade Triple Bill, 1980
1980
In June he sees the show Picasso from the Musée Picasso at the Walker Art Center in Minneapolis and Pablo Picasso, the Museum of Modern Art's retrospective in New York. He then travels to London to work with Gregory Evans and John Dexter on the Covent Garden production of Parade. Influenced by Picasso's ability to work quickly and spontaneously he produces sixteen canvases on music and dance themes. In the autumn he travels back to Los Angeles, where he paints Nichols Canyon and Mulholland Drive. In New York he works with the Metropolitan Opera on the Satie/Poulenc/Ravel production and meets Ian Falconer, who assists with the designs.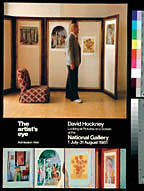 The artist's eye, National Gallery, London exhibition poster, 1981
1981
Delayed by strikes, Hockney's triple bill finally opens at the Metropolitan Opera in New York in March to rave reviews. Begins work on new designs for Igor Stravinsky's ballet Le Sacre du Printemps, Le Rossignol and Oedipus Rex for the Metropolitan Opera. In May he travels to China with Gregory Evans and Stephen Spender to work on a commission for a book, China Diary, for which Spender is to write the text and Hockney is to supply the drawings and photographs. Because of the intensity of their trip Hockney is forced to draw quickly and produces watercolours in part based on memory. Gemini publishes a series of new lithographs, mostly depicting Celia Birtwell. Hockney buys the house in the Hollywood Hills he has rented since 1979. During the summer he organizes The artist's eye, one in a series of exhibitions at the National Gallery, London.


Tourists, China, 1981
1982
Ian Falconer goes to live with Hockney in Los Angeles. The Centre Georges Pompidou in Paris suggests an exhibition of Hockney's photography. This proposal makes Hockney ponder the merits of photography and how to represent three dimensions in two. In an investigation of Cubism and pictorial space he starts experimenting with Polaroid composites. By May he has completed 150 works and opens a show in New York in June called Drawing with a Camera. In July he visits Paris with Ian Falconer for the Pompidou show and then stays in London, where he paints David, Celia, Stephen and Ian. Hockney goes to Martha's Vineyard with Gregory Evans in August and returns to drawing. In September he begins making photocollages using a Pentax 110 camera, in which he particularly likes the absence of white borders. Travels with David Graves and Ann Upton through the American West and creates a large photocollage of the Grand Canyon.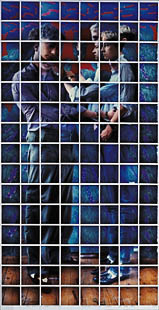 Paul Kasmin and Jasper Conran, Pembroke Studios, London, 8th May 1982, 1982
1983
On New Year's Day Hockney creates a complex photocollage of his mother, Ann Upton and David Graves playing Scrabble. In February he travels to Japan with Gregory Evans to speak at a conference about the uses of paper in art. Begins to study Chinese scrolls and reads George Rowley's Principles of Chinese Painting (1959). In the autumn he draws a series of revealing self-portraits almost every day for six weeks. In November he delivers a lecture, 'On Photography', at the Victoria and Albert Museum, London, in which he argues for dispensing with Renaissance one-point perspective in favour of 'many points of focus and many moments', which more accurately reflect human perception. An exhibition of Hockney's stage sets opens at the Walker Art Center, Minneapolis, and then tours for two years in America and Europe.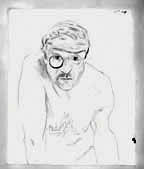 Self-portrait, 22nd Sept., 1983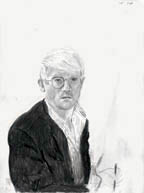 Self-portrait, 26th Sept., 1983
1984
After a break of almost four years Hockney begins painting again. The spring and summer are spent painting portraits in which he brings the model closer to the viewer, a development of his photographic experiments. Celia Birtwell, Christopher Isherwood, and David and Ann Graves are among his subjects. Influenced by the narrative of Chinese scrolls he paints A Visit with Christopher and Don, Santa Monica Canyon. Travels with Gregory Evans and David Graves to Mexico for the opening of the theatre design retrospective at the Museo Rufino Tamayo in Mexico City. A Walk Around the Hotel Courtyard, Acatlan, a view of the hotel courtyard painted in reverse perspective, is the result of the trip. Returns to Mexico later with Evans and Ken Tyler to experiment with a new technique – continuous tone lithography or the Mylar technique. Spends Christmas in Bradford and produces portraits of his family.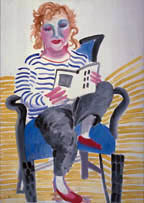 Celia With Her Foot on a Chair, 1984
1985
Works with Ken Tyler on a series of technically complex lithographs based on his drawings from the previous autumn. The Moving Focus print series are the culmination of Hockney's experiments with Cubism. During the summer he lectures on his photographic experimentation at the prestigious Rencontres Internationales de la Photographie in Arles. Michael Deakin invites Hockney to try Quantel Paintbox, a computer program for creating graphics for a BBC programme, Painting with Light. Hockney creates a 41-page essay for French Vogue made up of photocollages, drawings, paintings and his own writings (December 1985–January 1986 issue). On the cover is a small portrait of Celia Birtwell conceived in a late cubist style.


Pearblossom Hwy, 11–18 April 1986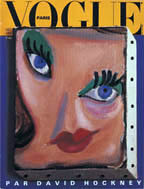 Cover for French Vogue, December 1985–January 1986, 1985
1986
In February Hockney makes his first home-made prints using an office-quality photocopier. He creates layers of colour by putting each sheet repeatedly through the machine. In Self-portrait, July 1986 he incorporates a direct photocopy of his shirt into the print. In the spring, he completes Pearblossom Hwy, 11–18 April 1986, the culmination of his experiments with photocollage. Begins the designs for the production of Richard Wagner's Tristan und Isolde at the Los Angeles Music Center Opera. Elected Associate Member of the Royal Academy of Arts in London.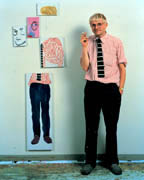 David Hockney with Self-portrait, 1984, 1986


Self-portrait, July 1986, 1986
1987
Paints a number of canvases representing operatic characters including Tristan Looking for Shade. With Philip Haas, he makes the film A day on the Grand Canal with the Emperor of China about studying a seventeenth-century Chinese scroll. Acquires a colour laser photocopier and begins experimenting with it, using it to create direct reproductions of his paintings. In Faces, the catalogue to accompany a portrait drawing retrospective at Laband Art Gallery, Loyola Marymount University, Los Angeles, he creates virtually new works using the photocopying technique to select and manipulate details from the original drawings.

Tristan Looking for Shade, 1987
1988
David Hockney: A Retrospective opens at the Los Angeles County Museum of Art and then travels to the Metropolitan Museum of Art, New York, and the Tate Gallery, London. Hockney threatens to cancel the exhibition at the Tate in protest over proposed anti-homosexual legislation in Great Britain. He returns to painting, creating a series of works representing the living room and veranda of his house in the Hollywood Hills. He also produces three portraits of chairs inspired by Van Gogh's paintings, which are commissioned by the Fondation Vincent Van Gogh, Arles, to celebrate the centenary of Van Gogh's arrival in the city. In his Malibu beach home Hockney begins a series of paintings about the ocean and small oil portraits of friends and family members that are the size of photocopies. As part of the creative process, he begins using a fax, which he describes as 'a telephone for the deaf'. For six months, Hockney sends images around the world under the title of The Hollywood Sea Picture Supply Co. Est 1988.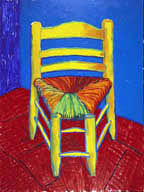 Van Gogh Chair, 1988
1989
Continues to paint small portraits of family and friends. Begins his series Pretty Plant Paintings, which he gives to friends suffering from Aids. In October he participates in the São Paulo Biennial exclusively in the form of faxed works. In November, in a live event witnessed by spectators and masterminded by Jonathan Silver, he faxes a 144-sheet composite image, Tennis, to the 1853 Gallery at Salts Mill, Saltaire, near Bradford.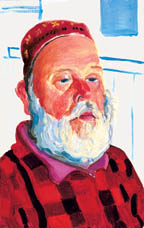 Henry Geldzahler II, 1989

David Hockney painting Billy Wilder, Malibu, March 1989
1990
Creates 'My Wagner Drive', a car trip between the Pacific Ocean Highway and the Santa Monica Mountains, driven to the rhythm of Wagner. He attends a three-day conference on new computer technology with his assistant Richard Schmidt. Using the Oasis programme for Apple Macintosh, he creates his first drawing on the computer, which he prints on his laser colour printer. With the help
of his first digital camera, Hockney produces two series of photographs: 40 Snaps of My House and 112 LA Visitors, a year-long project recording visitors to his Hollywood Hills home. In September he begins work on the stage set for Giacomo Puccini's Turandot, which is staged at the Lyric Opera of Chicago and San Francisco Opera. Richard Schmidt assists and Ian Falconer designs the costumes.


Ian Falconer from 112 LA Visitors (detail), 1990
1991
Begins work on a production of Richard Strauss's Die Frau Ohne Schatten for the Royal Opera House at Covent Garden, London, that opens the following year. Travelling with John Fitzherbert, Richard Schmidt and Bing McGilvray, he drives to Chicago to see his production of Turandot.
1992
Embarks on the 'Very New Paintings', investigations in space and colour in a semi-abstract style influenced by his opera set designs.

River landscape scale model from Die Frau Ohne Schatten, Act III.


Scene IV, 1992 The Sixteenth V.N. Painting, 1992
1993
Designs TV sets for 'Operalia '94', organized by Placido Domingo in Mexico City and broadcast internationally. Begins forty-five small portrait paintings and some drawings from life of his daschund dogs Stanley and Boodgie, which he completes in 1995. The portraits are published in a book titled Dog Days in 1998. Creates a series of 'Painted Environments' – three-dimensional assemblages of painted canvases. Begins a group of intensely observed large-scale, half-length crayon drawings of his friends, including John Fitzherbert and Jeff Burkhart, paying particular attention to their hands. That's The Way I See It, the second volume of Hockney's autobiography, is published.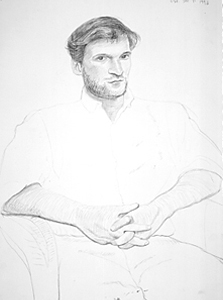 John Fitzherbert, Dec. 31, 1993, 1993
1994
Oversees a revival of his production of The Rake's Progress at Glyndebourne. Continues with the large-format drawings of family members and friends, which are included along with the portraits of his daschunds in Some Drawings of Family, Friends and Best Friends 1993–1994 at the 1853 Gallery, at Salts Mill, Saltaire, near Bradford. The show travels on to New York and Los Angeles. Henry Geldzahler dies.
1995
David Hockney: A Drawing Retrospective, a major touring exhibition of Hockney's drawings, opens at the Hamburger Kunsthalle, Hamburg and then travels onto the Royal Academy in London and the Los Angeles County Museum of Art. Paints a series of works called 'Painting as Performance' – a variant on his 1993 'Painted Environments' that change according to their computer-controlled lighting. Creates a series of digital photographic compositions printed on a laser-jet printer that confront reality, drawing and photography. The largest and most ambitious panoramic V.N. Paintings (Very New Paintings) are exhibited at LA Louver gallery, Venice, California.


Snails space with vari-lites, 'Painting as Performance', 1995–6
1996
In Yorkshire in January, Hockney paints portraits of his family and friends that are shown in March at the 1853 Gallery, Saltaire. While in Holland, Hockney sees a Vermeer retrospective at the Royal Cabinet of Paintings, Mauritshuis, The Hague. Struck by the lasting vibrancy of the colour and the way Vermeer controlled light, he returns to his Los Angeles studio with renewed vigour and begins a series of flower study paintings and portraits in oil.


Jonathan Silver, 1996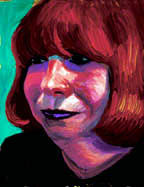 Ann Graves, February 28 1997, 1997
1997
The exhibition Flowers, Faces and Spaces takes place at Annely Juda Fine Art in London. Included in the show are new still lifes and direct portrait heads painted in oil with a fauvist palette. In June he drives between Los Angeles and Santa Fe, admiring the immensity of the American West on the way. Made a Companion of Honour by the Queen. During the summer he spends several months driving across the Yorkshire Wolds between Bridlington and York to visit his friend, Jonathan Silver, who is dying. These drives result in a series of landscape paintings in oil rendered in a rich palette. On his return to Los Angeles he completes a large two-panel painting of Salt's Mill, Saltaire, for Silver and continues to paint Yorkshire landscapes from memory. In December David Hockney: Retrospektive Photoworks opens at the Museum Ludwig in Cologne.


North Yorkshire, 1997
1998
Continues with Yorkshire landscapes, culminating with Garrowby Hill. Sees Thomas Moran's retrospective at the National Gallery of Art in Washington, dc, which includes paintings of the Grand Canyon. From February to May he paints A Bigger Grand Canyon, made up of sixty small canvases and based on Grand Canyon with Ledge, Arizona, October 1982 Collage #2, made in May 1986. The painting is exhibited at the National Museum of American Art, Washington, dc. From September to November he paints A Closer Grand Canyon, a 96-panel painting in which the viewer is invited further into the space. This time the painting is based on drawings and memory with no reference to photography. Also experiments with new techniques in a series of etchings of flowers, chairs and portraits, working with Maurice Payne who sets up a print studio in Hockney's Hollywood Hills home. The landscape paintings are exhibited at the Museum of Fine Arts, Boston, and at LA Louver gallery, Venice, California.


Garrowby Hill, 1998
1999
Hockney's mother dies in May. The exhibition David Hockney: Espace/Paysage, which traces Hockney's ideas about space and landscape from the 1960s to the present, opens at the Centre Georges Pompidou and then travels to Germany. Dialogue avec Picasso, the first exhibition by a living artist at the Picasso Museum opens in Paris. Hockney sees Portraits by Ingres: Images of an Epoch, at the National Gallery in London. Convinced that Ingres used a camera lucida to obtain accurate likenesses of people he met, Hockney begins experimenting with the tool himself and in March begins the first of 280 portrait drawings. Hockney begins to research how the Old Masters achieved such accurate depictions of the world around them, discovering that they used mirrors and lenses. Art historians, museum staff and friends are all drawn into the debate. An article about his discoveries is published in the summer issue of the RA Magazine. Participates in 'Ingres and Portraiture' symposium at the Metropolitan Museum of Art, New York, in September.


David Hockney at the Grand Canyon, September 1998
2000
Begins to write a book about the lost techniques of the Old Masters. As part of his research, he spends time studying photocopies of paintings dating back over five centuries on a 'Great Wall' in his Los Angeles studio. The wall begins with a 'pre-optics' Byzantine mosaic in Cefalu Cathedral c.1150 and concludes with a 'post-optics' Van Gogh portrait of Trabuc from 1889. Likeness: Recent Portrait Drawings by David Hockney, an exhibition of the camera lucida drawings, opens at UCLA Armand Hammer in April. In June Hockney exhibits in Encounters: New Art from Old at London's National Gallery. Invited to take inspiration from a work in the Gallery, Hockney chooses to depict the gallery warders in 12 Portraits after Ingres in a Uniform Style. Begins paintings of his garden during the summer in London.
2001
Hockney's book Secret Knowledge: Rediscovering the lost techniques of the Old Masters is published. During the summer Hockney travels to England, Germany, Italy and Belgium. He starts work on a documentary about his research into the use of optical devices in art for the BBC: David Hockney's Secret Knowledge. The exhibition David Hockney Retrospective: Photoworks opens at the Museum of Contemporary Art in Los Angeles, while the retrospective David Hockney: Exciting Times Are Ahead begins at the Kunst und Ausstellungshalle der Bundes-republik Deutschland, Bonn.

Secret Knowledge: Rediscovering the lost techniques of the Old Masters, 2001
2002
In New York Hockney works on the revival of Parade: A Triple Bill at the Metropolitan Opera. Sees an exhibition of Chinese painting at the Metropolitan Museum, New York. While staying at the Mayflower Hotel in the city, he begins using watercolour and continues working in this medium when he travels to London. He spends almost one year in Britain. For the first time he sits for the painter Lucian Freud. He sees Thomas Girtin and the Art of Watercolour at Tate Britain. In search of northern light he travels to the Norwegian fjords and Iceland, creating watercolours and sketchbooks of his journeys. Hockney's second portrait commission, to paint the Glyndebourne chairman Sir George Christie and his wife Mary for the National Portrait Gallery in London, is the catalyst for a series of large single and double portraits in watercolour of friends painted from life. Also produces many pen-and-ink portrait drawings and fills numerous sketchbooks with quickly observed drawings of his life in England and his travels.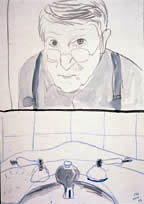 Self-portrait in Bathroom Mirror with Sink, New York 2002, 2002


David Hockney and Lucian Freud, 2002
2003
In January a small exhibition entitled Five Double Portraits: New Work by David Hockney opens at the National Portrait Gallery in London, with the portrait of Sir George and Lady Christie as the centrepiece. An exhibition of double portraits and Norwegian landscapes opens simultaneously at Annely Juda Fine Art in London. Hockney returns to Los Angeles where he continues working in watercolour. Attends the 'Optics, Optical Instruments and Painting: the Hockney-Falco Thesis Revisited' conference in Ghent, Belgium, in November. Receives an honorary degree from the Academy of Fine Arts in Florence and the Lorenzo de Medici Lifetime Career Award at the Florence Biennale.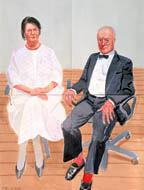 Sir George and Lady Christie, 2002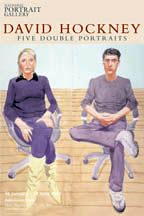 David Hockney: Five Double Portraits.National Portrait Gallery, London exhibition poster, 2003
2004
His travels in Spain and France in the early part of the year result in a series of watercolour landscapes. Spends time in Bridlington with his sister Margaret where he records the East Yorkshire landscape through the seasons, including a series of thirty-six watercolour studies. In March, the Whitney Biennial in New York, a survey of contemporary American art, opens and includes Hockney's recent watercolour works – portraits juxtaposed with still lifes of his Los Angeles garden. Travels to Palermo, Sicily, in May to receive the Rosa d'Oro Award. Curates the Royal Academy Summer Exhibition with Allen Jones, showing a selection of his Spanish watercolours. Returns to Los Angeles at the end of the year. Hockney's Pictures is published, an image-based retrospective book selected and organized by Hockney.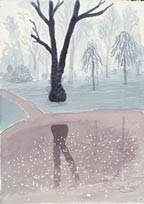 Rainy Mornng, Holland Park, 2004


David Hockney painting Ann & David Graves, Los Angeles, 2005
2005
Hockney works on a new series of almost life-size single and double oil portraits painted directly onto canvas with no pre-drawing. In February Hand, Eye, Heart, an exhibition of his Yorkshire landscapes, opens at LA Louver gallery. The thirty-six watercolour studies are exhibited as one work. Hockney returns to England and spends the summer in Bridlington where he paints the East Yorkshire landscape in oil en plein air. Exhibits the single standing figures in the Royal Academy Summer Exhibition. In preparation for David Hockney Portraits, he continues painting portraits including a series of paintings of Celia Birtwell's granddaughter, Isabella. In September he visits Leipzig, Dresden and Berlin. Returns to Bridlington to paint the Yorkshire landscape in the autumn. Midsummer: East Yorkshire is exhibited in the Gilbert Collection at Somerset House, London.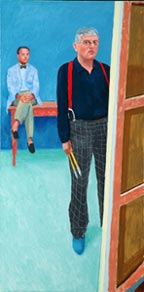 Self Portrait with Charlie , 2005

The Photographer and his Daughter, 2005
2006
Attends the openings of the traveling 'David Hockney Portraits' exhibition at the Museum of Fine Arts, Boston, in February; at the Los Angeles County Museum of Art in June; and at the National Portrait Gallery, London, in October. Hockney continues to paint the spatial experience of the East Yorkshire landscape. He develops a method where he is able to work on a large scale outdoors by using multi-canvas paintings that join to form one large picture. The first exhibition of these paintings together with their earlier single and double canvas counterparts is at Annely Juda Fine Art, London in September 2006.


Painting 'en plein air' in the Woldgate Woods, 2006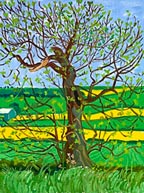 Woldgate Tree, 2006


Elderflower Blossom, Kilham, July 2006
2007
Travels to Los Angeles at the end of January to open an exhibition of his 2006 East Yorkshire Landscape paintings at L.A. Louver.
With the aid of digital photography his multi-canvas compositions culminate in the largest painting Hockney has ever made, comprising some 50 separate canvases that were painted outdoors and formed one giant painting measuring 15 x 40 feet titled Bigger Trees Near Warter that occupies a whole wall at the 2007 Royal Academy Summer exhibition where it was first shown in 2007. Following his strong interest in watercolour, Tate Britain invites the artist to curate the largest exhibition of Turner watercolours 'Hockney on Turner Watercolours' that is shown from June 2007 to February 2008. To coincide with the exhibition Tate Britain also exhibits a selection of five of Hockney's latest six-part Yorkshire Landscape paintings marking his 70th birthday. Returns to Los Angeles at the end of December to begin stageing rehearsals for the twenty year revival of his opera production "Tristan und Isolde" at the Los Angeles Opera.


Bigger Trees Near Warter, at the Royal Academy of Arts Summer Exhibition, 2007


Woldgate Woods, March 30 - April 21 2006
2008
Opens "Tristan und Isolde" at the Los Angeles Opera on January 19.
The subject matter of the East Yorkshire landscape in all its various seasons continues to stimulate Hockney. It is a landscape he has known since he was a boy when he used to work on a farm in the area during the school holidays. Gives his 50 canvas painting, "Bigger Trees Near Warter", to Tate Britain at a Press Conference in April. Exhibits ten of the Woldgate Woods paintings,"Looking at Woldgate Woods" at The Arts Club of Chicago in which all the works shown were devoted to just one of the Yorkshire landscape motifs that inspired him. Hockney begins to use the camera and large format prints as a means of production of the multi-canvas paintings to assist in the assembly of these massive works. His assistant photographs stages of the paintings on location and later makes prints in the studio of the individual panels in order to view them together at a smaller size to track the development of the painting. This method allows him to work on location yet in context of the work as a whole.


Woldgate Woods, 20 November 2006


Felled Trees on Woldgate, 2008
2009
Exhibits at L.A. Louver in February and at Annely Juda Fine Art, London, in May, his inkjet printed computer drawings. Travels to Germany for the opening April 26th of "David Hockney: Nur Natur/Just Nature," an exhibiton of over 70 large format paintings, drawings, sketchbooks, and inkjet printed computer drawings at the Kunsthalle Würth in Schwabisch Hall. Returns to England to paint. Begins editioning 'portraits' from his inkjet printed computer drawing series. Exhibits new paintings in a double venue show "David Hockney:Recent Paintings" at the PaceWildenstein galleries in New York, in October, his first major show in New York in over twelve years. Nottingham Contemporary opens with "David Hockney 1960 – 1968: A Marriage of Styles" on November 14th through January 24th, 2010.


Hawthorne Blossom, Woldgate No. 6, 2009


Felled Totem II , 2009